Blank Stainless Steel marking
Blank stainless steel marking available for purchase!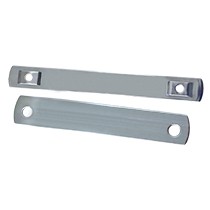 FLEXIMARK® Stainless steel marking is an industiral system for marking cables, pipes, components, and devices. It is used in demanding and aggressive environment. FLEXIMARK® Blank stainless steel marker is delivred in one package unit.
With this marking you receive a high quality and durability with stainless steel material SIS SS2348 (AISI-316). This material has high resistance towards different strains and chemicals.
FLEXIMARK® Stainless steel marking is mounted together with screws or FLEXIMARK® Stainless steel cable ties (also available with polyester coating).
For more information about the FLEXIMARK® Stainless steel marking system, please visit our online catalogue or contact our customer servcie.