FAQ Plate Multiprinter
Question:
Why does not the printer not want to insert the material for printing?
Answer:
You probably insert the material too fast or forgot to press online
Adjust the metal rails to the width of the material
Insert the material slowly until you hear a "bip"
Press online button and make sure the online lamp is on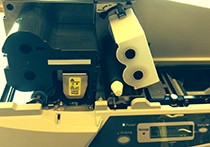 Question:
Why don't the printer print all of the text on the material?
Answer:
There may be several things to check.
Make sure the ribbon is correctly mounted, see the instructions under the lid
Adjust the metal rails to the width of the label material
Clean the material from grease stains, dust etc.
Insert the label material slowly until you hear a bip