Thermal transfer kit with Cablelabel PUR
We are pleased to offer you a thermal transfer kit together with software, cable marking, printer and ribbon - all in one package!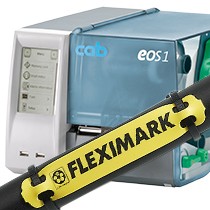 Thermal transfer printing method increases smudge, scratch aresistance and resistance to oils and chemicals.
This is why this thermal transfer kit is not only cost efficient but also durable marking for industrial environment.
CAB Thermal transfer printer EOS4 is a printer with high user comfort. Together with the right ribbon you can print marking with high quality text.
FLEXIMARK® Cablelabel PUR is a cable marking for both indoor and outdoor usage and adaped to industrial environemnt.
With flexible, halogen free and flame retardant durable material you receive not only a marking solution with high quality but also easier mounting.
For more information, please see the data sheet below, visit our online catalogue or contact our customer service.
Data sheet