FLEXIMARK® Cablelabel PUR in green
Cable marking FLEXIMARK® Cablelabel PUR for cable and conduit marking now available in color green!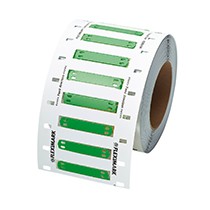 We have now included FLEXIMARK® Cablelabel PUR in green into our assortment!
This durable cable marking is halogen-free, flame-retardant, with good UV-resistant, chemical resistant and flexible material. With the help of FLEXIMARK® Sofware you can easily print these cable markers on a thermal transfer printer or order ready-made with customized text according to the customers specification.
Cablelabel PUR has a total temperature range from -50 to +80°C
For more informaiton visit our Online Catalogue