Information
2021-06-30
På grund av rådande pandemi, vill vi här informera om kommande prisförändringar. Du kan läsa mer om det i vårt nyhetsbrev.
2021-06-30
Due to the Corona pandemic, we have some information about price updates. You can read about it in this newsletter.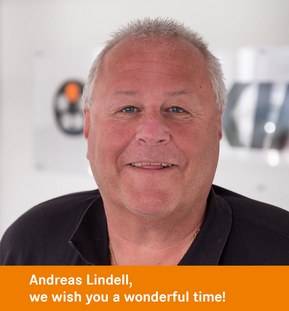 2021-06-22
ANDREAS LINDELL, WE WISH YOU A WONDERFUL TIME!
Andreas Lindell, experienced salesman at Fleximark AB and very soon a happy pensioner who longs for warm beautiful days in Spain and extra time with family! On Thursday Andreas works his last day at Fleximark, then completely new exciting adventures await. Andreas retires on June 24 2021.
A happy and fun-loving person with passion for sales.
Andreas was born in Stockholm, grew up in Gothenburg and Skåne and lives in Lund. He have two wonderful daughters, Rebecca and Michaela, and 3 lovely grandchildren, Ludvig, Alice and Tuva.
Andreas Lindell is a happy and fun-loving person with long experience in sales and with solid knowledge of marking and labelling. Andreas´ passion for his profession has given him and Fleximark great successes.
Andreas started his career at Fleximark 1989, when Fleximark still belonged to the Tobacco Company in Malmö. Fleximark was looking for new employees. Andreas worked for the Tobacco Company but applied for the job and got it. He was only 30 years old.
Andreas was employed as an operator but only a year after he started with indoor sales. Fleximark´s turnover at that time was around 200k euro and the company had only 5 employees.
In 1992, Miltronic Scandinavia acquired Fleximark and Andreas began to work with outdoor sales. When Fleximark in 1996 was moved from Malmö to Nyköping, Andreas remained in Lund as Fleximark´s outdoor sales representative. 80% of the customer stock was from district in south of Sweden, Andreas started to process these customers and then expanded his territory northward.
As Sweden is a long country Andreas started to create relations with wholesales who helped him with marketing and sales of marking & labelling products. The result was successful, Fleximark started to grow.
What has been most exciting about your work?
"I like to compete! Work with sales is similar to a game or competition from start to end. You want to win and do it in a good and fair way. It´s important to always be in the better part of the list because you will also face adversity" says Andreas.
Andreas also loves to meet people and create relations. Many of his customers during the years have after a long relationship become his friends. "Getting to know your customers and creating relationships is the future" he says.
Best with Fleximark?
Andreas believe that freedom under responsibility is the key. Products are probably secondary, for him it is more important with relations. Andreas have had a lot of fun with Fleximark. He remember all the trips across Europe to meet and train LAPP people in marking & labelling. He also remember other memorable events like one special trip to LAPP China in Shanghai, the Hannover fairs between 1989-2012 and also all Swedish ELFACK fairs.
Andreas has been involved in many large and important installation projects over the years, like for example Malmö City tunnel, Emporia shopping center, Sturup Airport, the Turning Torso building, Liseberg amusement park, Arlanda Airport, Malmö Live center & hotel and one of Sweden´s largest schools located in Lund. Other big projects that he will never forget is when Fleximark was commissioned to deliver all the labelling to the big Öresund Bridge between Malmö and Kopenhagen and also one of the last, the big ESS (European Spallation Source) project in Lund, Sweden. The Challenge has been to find and get projects that will be remembered, he says.
Fun things about Andreas
One fun situation Andreas carries with him among the sales trips he has made was one trip from Lund to Kiruna. It was an early spring day (Sunday). Andreas was flying to Kiruna for a customer visit on Monday morning. Before he left he cut the grass home in Lund, it was warm and sunny so he thought it was a bright idea to travel in shorts and only a thin sweater. When he arrived in Kiruna in the evening there was snowstorm! The climate difference between southern and northern Sweden was clearly reminded.
Andreas also loves ball sports, especially football (Arsenal is the favorite team) and handball and he carries the talent of being able to talk like Donald Duck!
What dreams do you have?
Andreas thinks it feels a bit surreal and scary to take the step out but says it will be great to be able to do things you can and want while you are healthy and mobile. Andreas will move from Lund to Kävlinge, change house to an apartment. He want to be closer to his daughters and grandchildren. Andreas has also bought an apartment in Fuengirola, Spain and will spend a lot of time there so LAPP Spain, just give him a call :) "Spain has great opportunities to play golf so I will start playing and take the green card" says Andreas. He looks forward to what he has in front of him.
We really wish our co-worker a fantastic time! As Andreas himself would say.. "Ad Finem" (lat. To the End)!
IMPORTANT INFORMATION FLEXIMARK DUE TO COVID-19.
2021-09-13
Strengthened organisation

Fleximark summer holidays are over and we are back in full force with new energy.

Fleximark has strengthened the organization with a new work colleague on inside sales. We are well equipped to provide our customers and partners with the best service and with high delivery security.
The Covid-19 situation is still very important. Fleximark continues to follow directives and guidelines from the WHO and the public health agency of Sweden. We also follow business directives and guidelines from LAPP.