FLEXIMARK® Software 11.0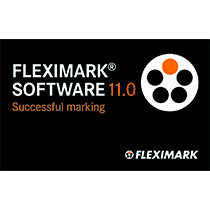 FLEXIMARK® Software 11.0 is the updated software version for creating and printing you own marking.
FLEXIMARK® Marking systems are predefined in FLEXIMARK® Software 11.0 and makes it easy to create and print labels, tags signs etc. The editing guide helps you through to the desired result, easy and with great freedom of choice.
With the software you can:
Create label projects
Create label templates
Use pre-installed templates for FLEXIMARK® Marking products
Create and print QR codes and barcodes
Create module labeling for panels
Copy in data from different sources
Change font
Create sequences of number series
Import and print images
Draw objects
Filter files
Create identification with date and time
Save print settings
Your purchase of FLEXIMARK® Software 11.0, Full version, includes free technical support for installation and program and printing questions.