Fleximark Stainless steel kit & Plier
Fleximark offers Stainless steel characters, character holders, cable ties and cable tie gun - all in one kit!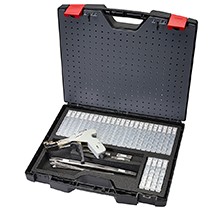 FLEXIMARK® Kit Stainless steel plier includes everything you need for durable cable marking produced in high quality stainless steel material (SIS SS2348 (AISI-316).
With high resistance towards acid, UV, diesel, water, alkali and oil, you will mount a marking which will hold most of the strains in a industrial environment.
FLEXIMARK® Kit Stainless steel plier consist of:
Cable tie gun for mounting with stainless steel cable ties
Stainless steel character strips, ready embossed
Stainless steel character holders for stainless steel strips
Stainless steel cable ties
| Article no. | Article type | FLEXIMARK® Cable tie tool |
| --- | --- | --- |
| 83254222 | FLEXIMARK® KIT STAINLESS STEEL | NO |
| 83254224 | FLEXIMARK® KIT STAINLESS STEEL PLIER | YES (HT-338) |
Fleximark also offers Kit Stainless steel without the cable tie plier.
For more information about the Kit Stainless steel, please visit the links below to the Online catalogue or contact Fleximark customer service.